This month's meeting we had guests Peter, K1PJS, NH Section Manager and Don, N1ZIH, PIO of Capitol area ARES
This month's special training is radiograms. We started with a look at early radiograms.
In general, radiograms should be short and to the point, but may need to be more verbose in certain situations such as shelter traffic etc.
Why send radiograms? Radiograms allow information to be passed via amateur radio, even when no other communication system works.
There are five parts to the radiogram, the PREAMBLE, the ADDRESS, the TEXT, the SIGNATURE, and the ADMINISTRATIVE INFORMATION.
In the ADDRESS section, more information is better- newer radiogram forms include a space for e-mail
the PREAMBLE includes the message number (created by the originating station), the handling instructions, the originating station, the word count (how many words are in the message), the originating location, and the date and time the message was filed with the origination station.
Message precedence: indicates the type of message: ROUTINE (abbreviated as R), WELFARE (abbreviated as W), PRIORITY (abbreviated as P), and EMERGENCY (Always spelled out in full)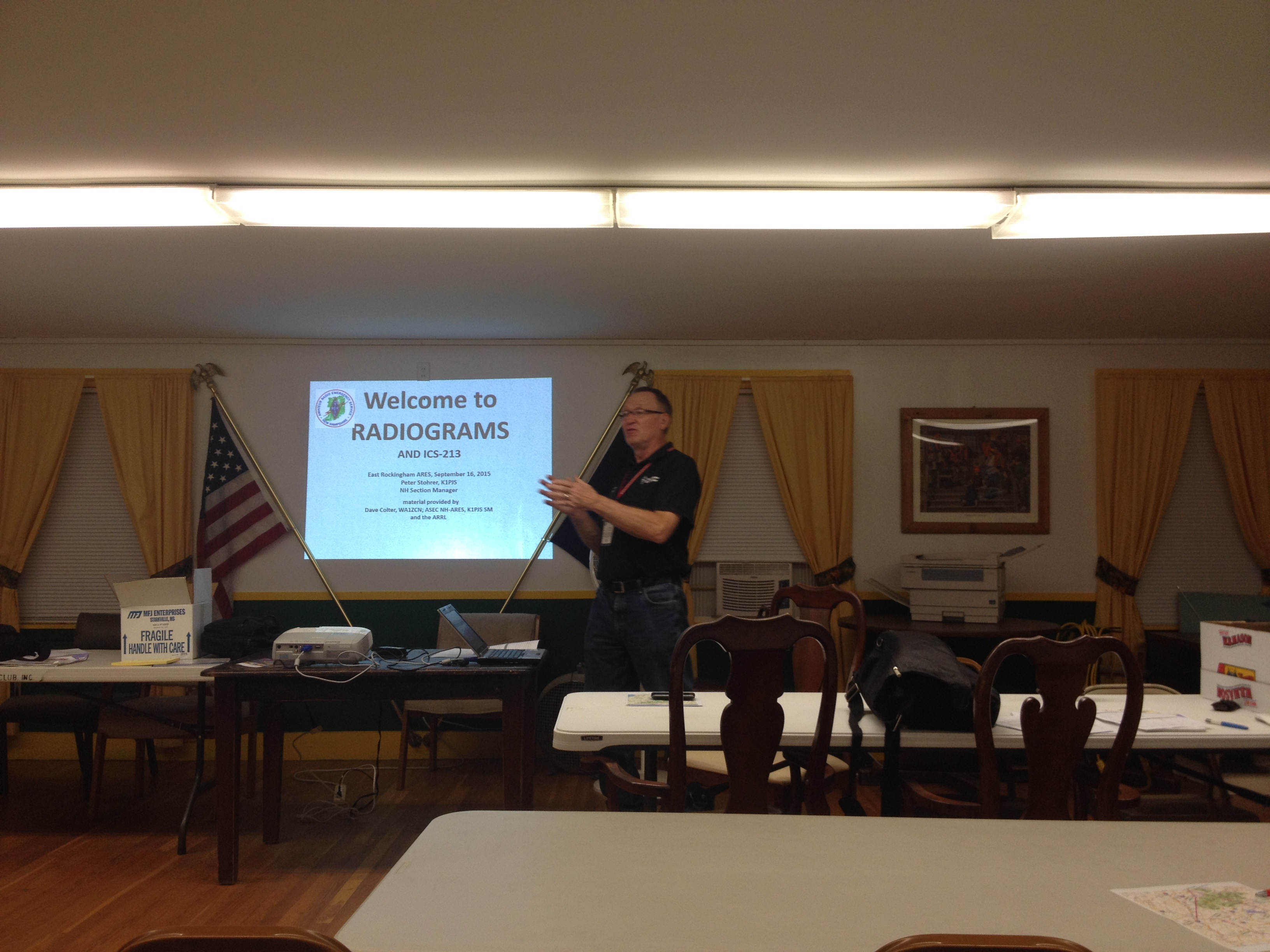 ROUTINE messages are everyday messages that are handled in normal times
WELFARE messages have to do with health and welfare such as notifying family members of your sitation
PRIORITY messages are urgent messages generally handles in times of emergency
EMERGENCY messages are rare
MESSAGE HANDLING instructions inform the delivering ham how to deliver the messages.
HXG is the most common and advises the delivering ham not to incur personal expenses in delivering the message
HXF is useful to hold a birthday message until the proper day
CHECK (Word Count) - This is the number of character groups in the message body. This number is filled in after the message body has been written and countedP
PLACE OF ORIGIN: This can be a city and state, a tactical call (State EOC, Shelter 23), building name (Concord City Hall), or a specific office (Governer's office)
TIME and DATE: This is the time the message is first transmitted into the voice or digital network. Use UTC if messages are crossing time zones, otherwise use local time. It can be in 12 or 24 hr time. If using 12 hr time, don't forget the AM/PM and put in Z for UTC or L for local time. Use the simple month and day (such as Jan 4) - generally years are not needed unless the message is expected to take a very long time
TEXT: Each word or "group" is on its own line on the radiogram form. Each group is counted individually, excluding the signature. Telephone numbers count as one group if they are hyphenated (603-555-1212) but count as seperate groups (603 555 1212 would be 3 groups). Punctuation count as one line (group). A street number in an address gets its own line. Number groups get their own line (25 COTS would be two groups). The signature is written in the message body below aad to the right of the message. It is not counted in the CHECK but it is important to send the title of the originator if applicable.
ADMINISTRATIVE DELIVERY BLOCK - used when messages are hand delivered, it is used to provide a way for the addressee to file a return message
GETTING THE CHECK RIGHT: The check tells the receiving station how many words and character groups are in the message. Everybody has to do it the same way. Each word gets its own line. Address numbers get their own line. A group of numbers is usually shown as numerals not written out as words. Phone numbers can be kept as one group if they are hyphenated and are read as one group - (603-555-1234 would be read as "Figures six zero three five five five one two three four") or can be unhyphenated and read as separate groups (603 555 1234  would be "FIGURES six zero three FIGURES five five five FIGURES one two three four"). MIXED GROUPS are used for groups of both letters and numbers (such as a callsign) and go one one line together, unless broken up by a hyphen or otherwise grouped, then each group gets its own line. Always speak each numeral separately - 243 is "FIGURES two four three" not "two hundred forty three". If you don't hear the pro-word "FIGURES" then write the number as a word - "74" would be written in two groups, "seventy" "four". Use punctuation ONLY if the message could be misunderstood without it. A period is written as "X" and read as "X-RAY". If the CHECK is wrong, ask the sending station to re-read at reading speed. If the check can't be fixed, draw a line through the check number and write the revised number next to it. DO NOT CHANGE THE MESSAGE TEXT without consulting the message's author.
DELIVERING A RADIOGRAM
-Decode and ARL texts or handling instructions and write them out.
-See which delivery options you have
-Use the fastest delivery method for simple messages, phone, radio, etc.
-Try to deliver a physical or electronic copy for lists or detailed information
-Always ask if there will be a reply message
-If over the phone, introduce yourself as an Amateur Radio operator, with a "message from the Nashua EOC" for example
RECORD KEEPING
-File a copy of each message in numerical order
-Always fill in the "received from" block - and fill in the "sent to" block if you relay it to another station
-Keep a separate sequential log of all messages with "received from" and "sent to" information with dates and time